Drive Digital Transformation with Microsoft Power Platform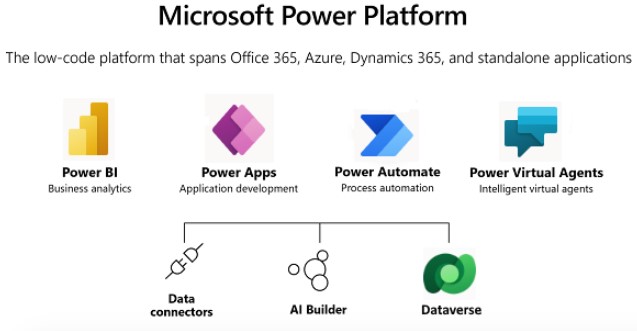 Drive Digital Transformation with Microsoft Power Platform
Digital transformation represents the integration of digital technology into all areas of a business, fundamentally changing how businesses of all sizes operate and deliver value to their employees and customers. Knowing that there is multiple platform and tools available in the market, we at Consultim-IT, as a Microsoft Technology specialist, we always advice our partners/Customers to invest in Microsoft Power Platform, because, from our experience, we know that the ROI is guarantee.
Below we are presenting a brief description about Power Platform and how you can leverage its services to drive your digital transformation.
What is Power Platform?
Microsoft Power Platform is a suite of business applications and services designed to empower all kind of organizations with an intuitive, collaborative, and extensible platform of low-code tools that makes it easy to create efficient and flexible solutions.
It's composed from Power Apps, Power Automate, Power BI and Power Virtual Agents.
Microsoft Power Apps: allows users to build easy-to-use, mobile-friendly enterprise applications for their business needs.
Microsoft Power Automate allows users to automate their business processes, mainly it's a workflow automation solution.
Microsoft Power BI allows users to develop personalized reports and dashboards using data from different data sources, mainly it's a business analytics tool.
Microsoft Power Virtual Agent allows users to Build bots quickly and easily then deploy them across multiple channels with different languages.
How to Digitally Transform with Power Platform
Digitalize your business processes with Power Apps and Power Automate
With Power Automate and Power Apps, you can digitize any process within the organization. The applications that can be built may vary from simple to complex application, can be used by any kind of users from top management to the front-line workers, below some use cases that we already built for our customers:
Advanced Employee Experience with HR applications
With the Challenges imposed within the modern workplaces, HR departments should transform the way they deal with their daily processes to offer a better and an advanced employee experience. Using the powerful DIO, Power Apps and Power Automate, companies can benefit from a set of a high added value applications such:
Employee Timesheet Management
Additional working hours management  
Digital Expense Management Application
With Power Apps and Power Automate you can build an application that enables your organization and employees to manage their Projects, Mission order and their related expenses. The application allows users to submit their expenses with the needed proof, give the managers the possibility to approve or reject the expenses…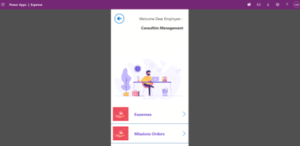 Visitors Management Application
With Power Apps and Power Automate you can build an application that enables your organization and employees to manage the on-site visitor process easily and efficiently, directly from Teams. The app enables employees to create visitor requests, centrally track a request status through the visitor dashboard, and receive real-time notifications when a visitor arrives.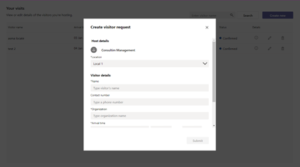 TURN DATA INTO INSIGHTS
Managing your daily work and processes without a way to measure and validate the outputs presents a shot in the dark. To be able to make better and daily enhanced decisions, any company needs to present their processed data in a way that helps decision makers to see a clear picture. Power BI represent a modern tool that offer all the needed features for any kind of company.
Throw the years Power Bi dominant the BI tools to become the most advanced and recommended tool to connect and visualize any data. With power BI organizations can:
Visualize and share data in the office or on the go
Create and collaborate quickly on reports and dashboards anytime, anywhere. Simpler and faster than ever before, Power BI helps you read data, discover insights, and forecast trends across a wide range of business priorities.
Connect, model, and visualize data with customizable reports
Pull data from hundreds of sources, model it with familiar tools, and lay out your findings with customizable visualizations that tell your data's story your way.
Gain more insight from more sources with big data analytics
Integrate data from internal and external sources for deep analysis across millions—or trillions—of data points, and create beautiful reports.
Easily monitor and administrate your organization's BI
See how data is being used and stored at a glance with comprehensive dashboards. Grant permissions, alter security settings, and share dashboards outside your organization with compliance and security you can trust.
Need a trusted partner for your digital transformation journey?
Office 365 and Power Platform have a lot to offer, At Consultim-IT our experience as a trusted partner was proved and enforced by real experience with international partners and customers. Contact us, to secure a strong Digital transformation partner to support you throw your journey.